If you're looking for something unique to do with an old window screen, here's a fun idea.
I grabbed my acrylic paints and set to work painting a birdhouse on a leafy vine-wrapped tree stump. First I used dark colors applying two or three coats. Next, I took bright yellow and highlighted areas to add definition.
You will want to spread newspaper or something underneath the screen because there will be a fine splatter of paint.
After it dried I sprayed a layer of lacquer over the paint to preserve it.
Lastly, I anchored and strung picture hanging wire to the back.
Today while I'm in Glasgow, MO, I'll take it to Glasgow Trading Post antique shop and gift store where it will hang for sale for only $10.
Now THAT'S a fun idea.
Looking for gifts you can personalize? Head to
Visages
to check out original art & designs you won't find anywhere else. Below are a couple of gift ideas.
Father's Day is June 17.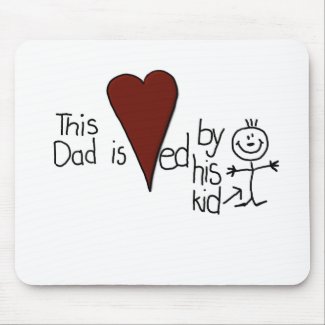 Kids Stick Figure Hearts Dad Mouse Pads
by
Visages
Design your own
mouse pads with pictures
.