Here are a few bits of inspiration if you're looking for designs to paint and decorate old wooden bowls you've grown tired of or found at a garage sale.
These bowls were assigned to me to decorate by Gramma Sophie's in Boonville, MO, where I have other items consigned.
NOTE: The bowls are meant for decoration only and are not to be used for food.
Preparation: I used 100 grit sandpaper to rough up the originally black in-and outsides of the bowls so the acrylic paint would adhere.
Both sides were then sprayed with a mixture of vinegar and water, and wiped clean and dry.
I painted a base color on the inside first, let dry and painted the outside also allowing it to dry. I think there are two to three coats on both sides. The colors were chosen for the owl bowls to represent 4th of July while the other bowl colors were my whims.
Owls: I loaded the owls' base colors onto a 1/2 inch brush then while using just the chisel edge from left to right, I made the "ear tufts" with a simple "u" shape then added a round body. After the paint dried, I filled in the wing shapes then added "feathers" once the wings dried.
The eyes were added with a small flat brush by pushing straight down and twirling the brush in a circle. The eye highlights were added by dipping the handle of the brush in white.
Curly Qs:
The assorted colored curls were added using a liner brush tip.
I finished off by stenciling a star on the outside and spraying both interior and exterior with spray lacquer.
Preparation for dragonfly bowl: Same as above.
Dragonflies: Using a liner brush, I painted random loops for the wings.
The bodies were added using black in a bottle with a liner tip.
Preparation for the bird house: Same as above.
Bird house: For the house, I laid in basic shapes in different colors. After the paint dried, I added the round holes in black by twirling a small flat brush dipped in black.
Shadows and highlights were added once the bird house dried.
White daisies, vines, leaves and berries were randomly added using a simple one-stroke method.
Finish: Again, I sprayed lacquer on both sides of the bowls to protect the paint.
Have fun! You're welcome to use my ideas.
Please visit my online gift store,
Visages
, where my original art adorns a large assortment of gifts.
Below are just a few recently purchased items:
Cute Country Folk Art Picture Ipad Cases
by
Visages
Create your own
custom iPhone 4 hard case
at Zazzle.
Blue Stripes & Dots Birth Announcement Card Photo Card Template
by
Visages
Browse more
Baby boy Photo Cards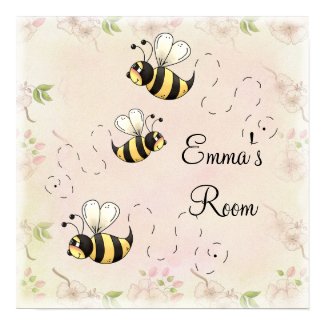 Cute Country Bees to Personalize Poster
by
Visages
Look for more
office art
at zazzle.com
Schipperke Picture Iphone 4 Cover
by
Visages
Make unique
personalized iPhone covers
at zazzle.com