Read the 2nd place winning entry to Write that Photo contest here:
Dreams Come True
Interview with Owner of Little Feet Ferret Bedding, Rose German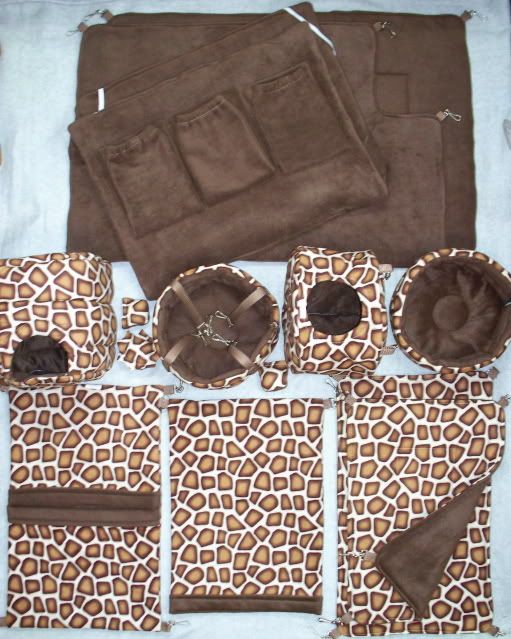 I met Rose through
Ferret.com
forum and after seeing pictures of her home sewn custom ferret bedding, shelf and ramp cover accessories made from assorted prints she sells through LittleFeetFerretBedding.org, she and her home business drew my interest. It's quite a niche and she's an inspiration to all who are starting a home business.
Your name:
Rose German
Website:
http://www.littlefeetferretbedding.org/
Facebook:
http://www.facebook.com/littlefeetferretbedding
What prompted you to create ferret bedding?
A need for better quality products that didn't fall apart after washing
How long have you been doing it?
Handcrafting Bedding since 2001
What is your favorite bedding print?
(describe and please provide a picture)
Celestials, Animal prints, Florals, Retro's - so many to choose from.
What other items do you make?
I make everything from simple Hammocks to elaborate complete ferret cage sets and created items like Heat paks for ill ferrets, Playmats, Cubes, Ferret Carriers, Drying sacks and so much more to list.
How did you get into ferret rescue?
Met a woman back in 1997 who just opened a shelter & started helping
What is your favorite rescue story?
Any ferret life saved by rescue is a favorite.
How many ferrets do you have?
Currently we have 27
What are their names and ages?
Zoe-5,Gretchen-4,Crystal -4,Brianna-5, Miss Misty-6,Hannabelle-7,Sarge-5,Sketchers-3,Fabio-3,Tiger-3,Mika-5,Damien-2,Roman-1,Ruby-5,Tigger-3,Honey bear-4,Bear-4,Mocha-3,Brodie-2,Jake-2, Alvin-7,Ryan-9,Petunia-8,Rogue-8,BooBoo-2,BeeBee-1,Tawnie-7 Mo's..
Is there something that is little known about you that you'd like to share?
I used to Race cars at Epping NH back in the 70's and I used to do Modeling for a local dress designer for Charity. I am married & have one son & 2 Grand kids.
Finally, what is the secret to your business success that others can learn from?
Go the distance - take the time to do it well & keep making product that i would want for my own pets.
Go check out Rose's home sewn bedding and become a member of
Ferret.com
forum. The people there are nice and very knowledgeable.
More gifts for ferret lovers at:
Visages
Ferret sayings, Ferretisms, T shirts
Ferret Ornaments
Ferretisms Cards
Ferret Mouse pads
Ferretisms Posters
Ferret Key Chains and Tote Bags
Find ferret, pets and animal inspirations in art and gift ideas at:
Squido Ferret Art Ferret Inspirations and Creations
MyMemories.com Freebie Designer Pack
Go to
My Memories
and use coupon code
STMMMS14390 to get $20 worth of coupons.